MartinFest XVI
The Unofficial Martin Guitar Forum
Annual Members' Get-Together -- Our 16th!
Last updated on Monday, July 31, 2017
---
All Unofficial Martin Guitar Forum members in good standing and their families and guests, and all Martin Guitar Company employees, families, and guests, are cordially invited to attend the sixteenth Annual informal Get-Together for us lovers of Martin Guitars! The setting will be both indoors and outdoors, definitely informal, and most of all there will be the opportunity to meet new friends, greet old ones, enjoy each other's company, and play the guitars which we have grown to love!
When: Friday, August 4, Saturday, August 5, and Sunday, August 6, 2017 from approximately 10:00 am to dusk each day. But, events will continue after dusk as well.
Where: Nazareth, Pennsylvania.
Who: YOU and your guests!
What: Jamming, Martins on Main Street, some special clinics, and lots of fun!
---
Here are the up-to-date details. Be sure to watch this page for periodic updates.
The Location --
Friday: Nazareth Borough Park - The Large Pavilion
Saturday: The Circle, Nazareth, PA for "Martin on Main"
Sunday: Nazareth Borough Park - The Large Pavilion.
The Events --
1. Thursday, August 3 - This is not officially part of MartinFest. However, it is our traditional time to meet old friends and greet new friends. We will have the use of a private meeting room at our hotel for this year, the Best Western Lehigh Valley (more details below), for the entire weekend. This will include our traditional Thursday Night Wine Tasting Party, courtesy of Laura 153 (Laura Voorhis). This will take place in the Bethlehem Room.
Although Thursday is our initial greeting day, your welcome will continue throughout the weekend, and by the time you leave you will wonder why you never came before!
2. Our featured performers this year at Martin on Main will be Wil Maring and Robert Bowlin. Wil and Robert have combined talents to create beautiful original acoustic music which straddles the fence between bluegrass, folk and country music. Wil's beautiful airy vocal style and guitar and bass playing are a perfect complement to Robert, who is a two-time National Fingerpicking and Flatpicking contest winner and who has been a band member with legendary artists such as Bill Monroe, the Osborne Brothers, and many more.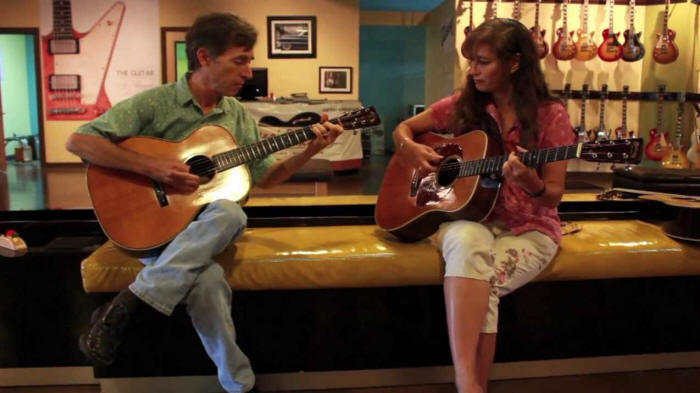 Will and Robert love informal jams and will be with us at our hotel to join us in our festivities. Robert also has an extensive collection of vintage Martins, some of which will come with him to MartinFest.
We are also pleased to advise that Wil and Robert plan to spend the entire weekend with us, from Thursday night through Monday morning. So be prepared for some incredible jamming!
3. Friday, August 4, 2017: As indicated, we'll be at the Large Pavilion. The Large Pavilion is located past the concession stand on your left as you enter the Park. It's at the end of the parking lot on the left. We have the entire pavilion. You can park in any open space in the lot - there is no fee. Setup will be around 12:00 noon, and anyone wishing to help will be most welcome.
This will be a day of jamming and open mikes. We are leaving the morning and lunchtime open for visits to Martin or other activities. We will have a sound system at the western end of the Large Pavilion.
A word about the Open Mikes at the Park -- No one has to participate in this activity, either as a performer, member of the audience, or worker bee. Also, you do not have to drop whatever you are doing and listen in silence! We do ask, however, that out of courtesy and consideration for those involved in the Open Mike, you move your jam or conversation to the other end of the Pavilion or elsewhere in the Park so that it does not interfere with the proceedings. If the Log Cabin is not being used, the porch there is a good spot for jams as well.
From 3:00 to 3:45, we will have a special presentation by Greig Hutton (hutton99). He wil share his expertise with us on such diverse topics as history, facts about wood purchases, where Martin parts and pieces come from, why certain changes were made, and other matters. He will also take questions.
Then at 3:45. back to jamming and Open Mike until we wrap up around 5:30. Then back to the hotel for friendship and music.

4. Saturday, August 5, 2017: This will be the Tenth Annual "Martin on Main" event. This continues to be a cooperative event between the UMGF, C.F. Martin & Co., the Nazareth City Council, and the Nazareth Chamber of Commerce.

a. The venue on Saturday will again be the Circle on Main Street.

b. Main Street will be closed for a block or so in every direction.

c. There will be vendors all around the Circle and up and down the streets, with displays, food, wine, art, etc. You are welcome to bring your own beverage, of course. Please keep adult beverages to a low-key basis.

d. The Moravian Church on the Circle will again provide a room for guitar storage. We will have the key and be in charge of that. As has been the case each year, we will develop a list of volunteer Guitar Guards, which will be posted on the door of the room, in the Admin tent, and on the Forum. You will need to sign your guitars in and out and be given a tag. Please try to have all guitars out of the church by 6:15. Strays and leftovers will be taken back to the Holiday Inn.
Please do not bring alcoholic beverages into the church, and please refrain from smoking as well.
e. There will be an Open Mike all day, from 12:00 noon to 6:00 pm, completely under our control. It will be in the circle under some shade trees, and a stage will be provided. We have also arranged for a sound system. We have a great list of perforrmers from our ranks and have arranged for Guitar Guards at the church to watch over your instruments when not in use. Guitar Guard volunteers and new performers will get first preference in that order for the Open Mike. Your friendly Moderators, Doug Truxillo, Ed Madonio, Todd Yates and Jack Rickenbach, ably assisted by Barry Baer and perhaps other volunteers, will be your emcees for this Open Mike session as well as all Open Mikes at the Park.
f. The plan is also for most of us to roam around and have little jams on the streets, the corners, in front of shops, etc. There will be small stages set up in various spots. Everyone is encouraged to set up informal mini-groups and play for the public in the blocked off streets. Anything goes - Beatles, CSN, Eagles, Grateful Dead - the more the better!

g. Port-A-Johns have been arranged for.

h. The Chamber of Commerce has advertised Martin on Main far and wide, on TV, radio, the press, etc. The goal is to get as many tourists as possible into town to listen to us and visit local merchants.

i. There is no designated parking area for this event. Parking should be available on the many side streets near the Circle. Please note that parking on Main Street in the Circle, and on West Center Street between the Circle and Green Street, is prohibited by the Nazareth Police Department except for UMGF staff having police permits to park.

This event continues to strengthen our relationships with Martin and the Township.
Following Martin on Main, we will return to the Best Western for friendship and jamming.
At 8:00, we will have a special treat - an Irish concert and singalong with Celtic Spirit, led by our own Jack Rickenbach (jackenbach). Plan to join them and sing all the old favorites (if you have any voice left)!
5. Sunday, August 6, 2017:
Setup will again be at approximately 10:00 at the Large Pavilion. Following this, there will be a Sunday Morning Worship Jam at about 10:30. At 11:30, the service will be followed by our annual visitation to the memorial trees just behind the Pavilion.
At 12:00, immediately following the trees, we will have our Group Photo. Then at about 12:30 we will have Open Mike and jamming until 2:00.
At 2:00, we will have our annual Auction. Any and all items that you can bring for this will be welcome!
Then at 3:00 we will have our guitar clinic with Wil Maring and Robert Bowlin. This should be very interesting, as they plan to cover a wide variety of topics. This will conclude around 4:30.
Finally, from 4:30 to 5:30 we will have our last Open Mike and then conclude the formal part of MartinFest 2017 at 5:30. But fear not! There is a large contingent staying on at the hotel for Sunday night, including Wil and Robert.
OTHER ACTIVITIES:
Martin Factory Tours -- Martin will be open for business as usual on Friday and Monday. We will alert Martin that there may be a need for extra tour guides on standby on those days in case they are needed for our group. There will be no advance signup sheets or private tours, but if a UMGF group arrives together, you will most likely get a private (but standard) tour anyway.
The lobby, the 1833 Shop and the Museum will also be open on Friday and Monday.
Buy and Sell -- There will be a designated area on Friday and Sunday at the Park to buy or sell guitars, other musical related gear, CD's and other UMGF related paraphernalia such as T-Shirts. This is limited to private and professional sales by UMGF members ONLY except for CD's, where all artists who are either members of the UMGF or are our guests are invited to offer CD's for sale. In the case of professional guitar sales, items must be limited to vintage/used guitars, new Customs made up especially for you, or handbuilt guitars that you have made. Otherwise, new Martin guitars may not be offered for sale pursuant to Martin Guitar Company policy. Other professional sales such as cases, strings, etc. may also participate. MartinFest is not a trade show, and professionals may not have signs, brochures etc. accompanying your items. A price and a contact point is all that is permitted for any seller. All persons are limited to 5 musical instruments or other items in Buy and Sell and are to use the designated tables in the Buy and Sell area and not set up their own private table. For purposes of this section, the term "professional" means authorized Martin dealers, authorized Martin warranty persons, other repair persons, independent luthiers and authorized dealers of other types of accessories and who have been an active member of the UMGF for not less than 6 months. There will be no Buy and Sell on Saturday.
Name Tags -- Once you register, name tags will be made up for you. Name tags will be available at the hotel on Thursday, Friday, Saturday and Sunday, and at the Administors' areas on Friday, Saturday and Sunday. There is a voluntary contribution of $1.00 each for these tags. If you did not register, no soup for you!
Open Mike Signup Sheets -- There will be signup sheets each day for the afternoon Open Mikes at the Park on Friday and Sunday. These can be found at the Admin area at the Pavilion. These will not be available in advance of each day. There are no signup sheets for the open mike on Saturday - a separate list will be solicited and then published.
Other General Info --
There is no entry fee at Nazareth Park, and there are restrooms available.
Most importantly, there is NO talent needed or required (other than a good sense of direction to Nazareth). We will have an open mike for those who wish to participate, but all three afternoons are really intended just for getting together, enjoying each other's company, perhaps sharing tips and tricks, and just plain old having fun!
You will be responsible for keeping watch over your own instruments and other possessions and for loss of or damage to the same. Nazareth Park is a public facility, so even though we have private areas, there could be many other persons passing through. The Circle on Saturday will be even less secure, since the general public is invited to attend, so please keep a careful eye on your gear and other folks' gear as well.
Food and Beverage -- The concession stand by the pool will be open and carries hot dogs, hamburgers, etc. I have not been told that alcoholic beverages are prohibited, but if you bring beer or wine PLEASE be circumspect and responsible. Also, there is a pizzeria (Mivajo's) right up the road near Martin (although it is often closed the first week in August) and other places available.
Pool -- The pool at Nazareth Borough Park is available for a small fee.
Weather --
Rain. Rain or thunderstorms can spring up anytime in the summer in Nazareth. If there's a storm on Saturday, do NOT stay in the Circle. Go into the Moravian church for shelter, or if you're in town singing or shopping, into the nearest open merchant. For those in the Circle, please pick up any extra gear you see lying on the tables etc. and bring it into the church with you. We can sort it out later. If there's a storm on Friday or Monday, the Large Pavilion should provide enough shelter for us.
Heat. It's normally hot all three days. Bring plenty of water, and there's a water fountain in the Circle near the cannon. Keep an eye on each other and yourselves for signs of heat exhaustion, such as heavy sweating, paleness, nausea, and even fainting. Normally the person merely needs to sit in a cool place for an hour or so, but in the case of fainting 911 should probably be called.
Directions --
From the East: Find your way to Interstate 78 in New Jersey. Follow I-78 into Pennsylvania (do NOT get off onto Route 22, Phillipsburg). About 6 miles into PA, take PA 33 North. Continue until you see Route 248 and a sign for Nazareth. Get off at this exit and bear right at the bottom of the ramp. Go a few miles, past the huge concrete plant on your right, and turn right at the light by the Nazareth Diner. Go through the town of Nazareth and past Nazareth Park on your left (yes, that is the park that we will be using). You will then see the Schoeneck Moravian Church on your right, quickly followed by Mivajo's Restaurant/Pizzeria. Turn right immediately onto Beil Avenue, and you will see C.F. Martin & Co. on your right at the next intersection. The visitor's parking lot is on your right, but it will almost certainly be full, and so we have made other parking arrangements for Monday, as set forth below.
From the West: Find I-78 East and get off onto Route 33, then follow the above directions.
From the South: Take the PA Turnpike Extension up to I-78 East, then follow the above.
From the North: Follow the directions on the Martin web site
Please note that these are all directions to Martin & Co. As indicated above, Nazareth Borough Park is on the way to the factory (except if you're coming from the north), on the left very shortly after you get out of the business section of town.
Lodging -- We have chosen the Best Western Lehigh Valley Hotel and Conference Center as our principal lodging this year, and it is where most folks are staying as well as our guest performers. We have a group code of "UGF". The rate for the group is $109.00 for a single or a double, and this rate includes a hot breakfast. If they indicate that all rooms under that number are currently sold out, keep checking! There are always cancellations.
A link to the UMGF page providing much more detail is available HERE.
Please note that the local liquor laws are very strict, and we have been asked by the hotel to limit our consumption to our hospitality suite and our private rooms. This is somewhat unfortunate, but please make every effort to comply with this request. Liquor is also available in the restaurant and in the bar, but of course it must be purchased.
Local sights and activities:
There is a Sands Casino in Bethlehem with various activities and several restaurants.
The annual Musikfest is ongoing in Bethlehem.
Winery tour - Wynecrest Vineyards and Winery offers tours and wine tasting. The winery is located just outside of Nazareth.
Crayola Crayons - For the kids (including us grownup kids), the Crayola Factory offers tours every day of the week in nearby Easton, PA.
Also for kids, including grown-up kids, is Dorney Park and Wildwater Kingdom in Allentown - rides, etc.
There are also walking tours of historic Nazareth and many other activities available.
Registration -- Registration is now closed. You can view the final Registration List here.
Registration Fee -- As always, the Registration Fee will be completely voluntary, and I will have a Contributions Jar at the hotel and at the Park on Friday and Sunday. I'll also bring the jar to the Circle on Saturday. Based on prior years' experience, a contribution of $10.00 per person per day is suggested - but please keep in mind that this is only a suggestion, and there is no obligation whatsoever to make any contribution.
For purposes of the above, "person" means the UMGF member, his or her spouse, fiancée or significant other, children 14 or over, and guests. Children under 14 are free as always.
If you are making a contribution for something else such as Buy & Sell, voluntary or auction fee, etc., please do not put it in the Contributions jar. I'd like to keep these separate, and I will have a different container for this kind of donation.
Photos -- Here are some pictures of the Log Cabin, the Large Pavilion, the old Martin Factory, and the old Martin Residence, now used by the Nazareth Chamber of Commerce. There are some nice Martin guitars in there!
---
Mac Carter, Webmaster